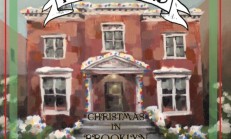 Our very own Milton Street Revival Band has a Christmas Album out, and just in time for the Advent and Christmas season! We will all be enjoying a special Christmas Album Show on Friday, December 20th at 9pm at Brooklyn Rod & Gun Club at 59 Kent Ave.
Have a listen for yourself or buy the album! themiltonstreetrevivalband.bandcamp.com
All proceeds from the album go directly to fund Greenpoint Reformed Church's ministry and social service programs!