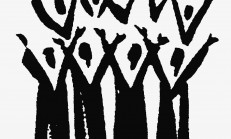 Greenpoint Gospel Choir is a community chorus in Greenpoint, Brooklyn that performs and sings joyful music from the American gospel tradition. We are a small and dedicated group of singers from all backgrounds and experiences, including seasoned musicians and beginning singers.
Our choir performs periodically throughout the year during Sunday worship and we rehearse every other Sunday from 12:30-2:30pm (NEW REHEARSAL TIME)  at Greenpoint Reformed Church.
Our next rehearsal is Sunday, January 12th and we are preparing for our next performances are on March 9th (for Lent) and April 20th (for Easter).
Interested in joining? Contact Choral Director Beth Price at pricebeth99@gmail.com.