One of our greatest joys in life is to hear the words "dearly beloved," and so we are excited that you are interested in having your wedding at the Greenpoint Church. Love is indeed one of the great mysteries and blessings of God. We take the marriage seriously and believe that it is a lifelong, spiritual covenant proclaimed before God and spiritual witnesses.
We want to help make your wedding day as special as possible, but more importantly we want to encourage your marriage to be healthy and strong. Marriage is meant to be lived out within the context of community, where it can be nurtured by others. In choosing hold your wedding at here, we invite you to feel supported by our congregation.
The Greenpoint Reformed Church is clear about our belief in marriage equality for same-sex couples, and we welcome both same-sex and opposite-sex couples to be married here.
One of the ways that we support relationships is by recommending pre-marital counseling to all couples seeking to enter into marriage. This is not required, but is strongly encouraged. Our pastors are both certified Prepare/Enrich counselors. This six session program helps couples explore relationship strengths and growth areas, learn assertiveness and active listening skills, improve conflict resolution and focus on personal and family goals.
To ensure that couples receive the necessary spiritual support for their marriage, all weddings are approved by the church's Board of Elders. Please view this not as a test or hurdle to holding your ceremony here, but instead as an additional means of encouragement and support.
The consistory has approved the following fees for non-members:
Use of the sanctuary for wedding ceremony is $200
Use of the social hall for receptions is $500 for up to 8 hours
Minister to officiate at the ceremony is $300-$600 depending upon the time needed to prepare for the wedding. Our ministers are also available to officiate at weddings off-site.
There is a security deposit of $200 to hold the date for your wedding. This will be returned to you after the event, provided the space is clean.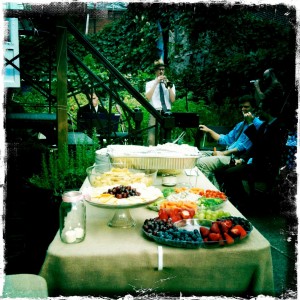 Church musicians are available to provide music for your wedding and reception depending upon your needs and style. The fee for musicians varies upon the amount of music and number of musicians, and should be discussed with Jason Benjamin, our minister of music.
For more information about weddings at the Greenpoint Church, please contact us at (718) 383-5941.