How do we instill in our children the spirit of our church? Each teacher brings their own talents, experiences, and personalities to our Sunday school. And we are free to explore spirituality, Jesus' message, and our community's mission of inclusion and service through song, art, story-telling, dramatics, and games.
This year, I brought the children of all ages together to make a Doing Tree. How can we make an impact on the lives of people or communities who need support?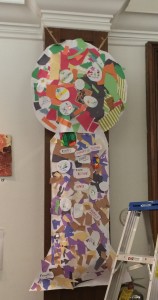 We can DO, not just sit back and watch. The children stuffed the tree, and then made a collage, allowing everyone to work at their own developmental stage towards a collective creative project – from a 3 year old to 13 year old!
Our Doing Tree reminds us that we grow as a community by doing things for each other. The children's beautiful tree hangs in the Social Hall, reminding us why we are here.
Greenpoint Reformed Church Sunday School, 2014-2015 school year
– Daniele Sahr, Director of Sunday School